America: A Tribute To Heroes
Fiday, September 21, 2001, 9-11 p.m. ET

A telethon to raise money to aid those who suffered loss
resulting from the terrorist bombings of September 11, 2001.
---
This remarkable event was broadcast simultaneously by the six biggest broadcasters: ABC, CBS, NBC, Fox, UPN, and WB, along with cable networks that included MTV, Lifetime, HBO, and USA. America: A Tribute to Heroes was also heard on more than 8,000 radio stations.

The two-hour telethon ran without interruption and without an audience. Bruce Springsteen opened the show by performing "My City of Ruins", a song he had written about the deterioration of the New Jersey seaside town, Asbury Park. Bruce introduced the song by saying, "This is a prayer for our fallen brothers and sisters."
---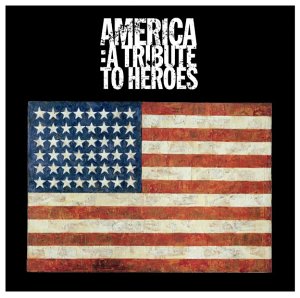 MY CITY OF RUINS


There is a blood red circle
on the cold dark ground
and the rain is falling down
The church door's thrown open
I can hear the organ's song,
but the congregation's gone


My city of ruins
My city of ruins


Now the sweet bells of mercy
drift through the evening trees,
young men on the corner
like scattered leaves,
the boarded up windows,
the empty streets
While my brother's down on his knees


My city of ruins
My city of ruins


Come on, rise up!
Come on, rise up!
Come on, rise up!
Come on, rise up!
Come on, rise up!
Come on, rise up!


Now's there's tears on the pillow,
darlin' where we slept
and you took my heart when you left
Without your sweet kiss
my soul is lost, my friend
Tell me how do I begin again?


My city's in ruins
My city's in ruins


Now with these hands,
with these hands,
with these hands,
I pray lord
With these hands,
with these hands,
I pray for the strength, Lord
With these hands,
with these hands,
I pray for the faith, Lord
We pray for your love, Lord
We pray for the lost, Lord
We pray for this world, Lord
We pray for the strength, Lord
We pray for the strength, Lord


Come on
Come on
Come on, rise up
Come on, rise up
Come on, rise up
Come on, rise up
Come on, rise up
Come on, rise up
Come on, rise up
Come on, rise up
Come on, rise up
Come on, rise up


---



America: A Tribute To Heroes


An album of the songs performed during the telethon was produced
and sold with the proceeds to be donated to charity.


Catalog Number: 493188
UPC: 606949318826
Format: CD
Release Date: Dec 4, 2001
Label: Interscope Records



DISC 1

1.   My City Of Ruins - Bruce Springsteen
2.   Love's In Need Of Love Today - Stevie Wonder
3.   Walk On - U2
4.   There Will Come A Day - Faith Hill
5.   I Won't Back Down - Tom Petty
6.   Hero - Enrique Iglesias
7.   Imagine - Neil Young
8.   Someday We'll All Be Free - Alicia Keys
9.   Wish You Were Here - Limp Bizkit
10.  New York State Of Mind - Billy Joel



DISC 2

1.   I Believe In Love - Dixie Chicks
2.   Everyday - Matthews, Dave Band
3.   Redemption Song - Wyclef Jean
4.   Hero - Mariah Carey
5.   Livin' On A Prayer - Bon Jovi
6.   Safe And Sound - Sheryl Crow
7.   Fragile - Sting
8.   The Long Road - Eddie Vedder
9.   Bridge Over Troubled Water - Paul Simon
10.  God Bless America - Celine Dion
11.  America The Beautiful - Willie Nelson


---

List of participating networks:

A&E
ABC
BET
CBS
CMT: Country Music Television
Comedy Central
Court TV
Discovery
E!
FOX
Fox Family
Fox Sports Net
FX
Galavision
Hallmark Channel
HBO
Lifetime
MTV
NBC
Oxygen
PAX
PBS
Sci-Fi
Showtime
Sundance Channel
Telemundo
The WB
TLC
TNN
TNT
Turner South
Univision
UPN
USA Network
VH-1
VH1
WB